Welcome to Northstar Montessori Private School
Celebrating our 20th Anniversary!
Serving Mississauga since 1996!
We thank you for taking an interest in Northstar Montessori Private School.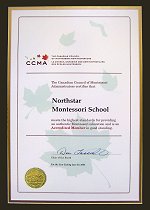 We are a private montessori school in Mississauga, Ontario. We are an accredited member of CCMA. We have been serving the Mississauga area since 1996.
This website contains an overview of important information regarding the Montessori philosophy, our program, curriculum and other pertinent information. If you have any further questions or require more detailed information about our school, please do not hesitate to contact us.
If you wish to have a personal tour of the school, we will be pleased to arrange a mutual time that is convenient. Please note our office hours are from 8:00am until 4:00pm.
We look forward to hearing from you soon.
Telephone: 905-890-STAR (7827)
Principal: Mrs. Virginia Ramirez (ext 223)
Vice-Principal: Mrs. Sherry Gosal (ext 225)