Genuine Montessori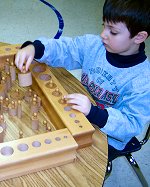 At Northstar Montessori, we are proud to offer a complete series of genuine Montessori learning materials, and are proud of our commitment to offer a rich and varied programme that remains true to the methods and precepts developed by Maria Montessori.
As well, we offer supplementary group activities in art, music and storytelling that enrich the creative/imaginative horizon of a child's mind and foster self-expression, communication and the spirit of working together.
At Northstar, we will guide your child through the concrete/sensorial domain of development to the abstract/conceptual, while fostering the creative/imaginative horizon with the goal of allowing each child to construct his or her own unique self.
The Montessori Method