Lower Elementary 2 Teacher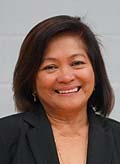 Mrs. Cora Rueda - Directress
The wealth of experience teaching young children in a global perspective and the authentic inspiration of Dr. Maria Montessori have led me to a deeper commitment in providing an outstanding Montessori Education to our young learners. My academic qualification includes a diploma in the lower elementary education at the North American Montessori Training Center in British Columbia, Early Childhood courses offered via Seattle University and a continuing education in the lower and upper elementary program at the Toronto Montessori Institute.
I am a happy mother of four, two girls and two boys. Spending quality time with my family has made me enjoy life to the fullest as we strongly support each other at all times. My older girls work hard in their university studies while my two boys are enjoying their academic life in high school.
I am extremely delighted to share "the big part of me" to all our students and teachers alike here at Northstar Montessori School. I carry with me the treasures in "discovering the child" and the genuine love for children that would help them maximise their fullest potential as they grow and develop at their own pace. As a Montessori teacher, I firmly believe that giving out the best of one's self to help the child is one great strength that has kept me going. I find it truly rewarding when I see the joy of learning through the children's eyes, and the comfort of achieving their goals as they work hard each day. I feel honoured to be a part of this wonderful school. Lastly, I would like to thank the Northstar Community for giving me this great opportunity to share my gifts and skills to our young learners and I look forward to a fantastic year!