Sensorial Materials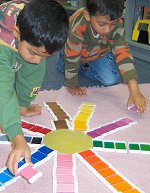 Maria Montessori understood that children instinctively use the hand to manipulate, absorb and thereby internalize the world in the process of understanding the world and, at the same time, constructing their minds.
In response to this special way of learning, she developed a rich series of high quality sensorial learning materials, each one focusing on a particular task, operation, property or concept, and inviting manipulation by a child. By persistent effort, a child not only develops finer manual coordination, but refines the senses and the ability to differentiate.
At the same time, a child absorbs valuable concepts, properties, or conceptual operations (eg. number, metric quantities, proportion, pitch, color hue, addition, etc.), even if at a visceral and pre-conceptual level at first.
By introducing more advanced concepts early on in the form of these concrete abstractions, which a child can literally grasp by hand, the Montessori Method allows a child to thoroughly familiarize himself with these concepts at a concrete pre-conceptual level, taking advantage of a younger child's natural enthusiasm and love of repetition.
In effect, the vital groundwork is laid today for better grasping the concepts on a conscious level tomorrow.
The Montessori Method