Some Advantages Of Private Swimming Lessons
By Sofia Coraines
Is it time for your children to learn how to swim? Learning how to swim is an essential task for anyone. Not only can swimming be used for recreational purposes, it can save lives. For this reason, an investment into private swimming lessons is a good idea for just about anyone. However, private swimming lessons for kids is one of the best ways to introduce your children to the fun they can have while either at the pool or the beach. When you are able to make your children comfortable in the water, it will not only allow them to build great memories, but it will keep them as safe as possible while doing so. Below, we will be going over some of the main advantages that you will get from private swimming lessons.
Advantages Of Private Swimming Lessons:
1. Teach Children How To Be Comfortable In Water
One of the biggest advantages that you will be able to get from investing in private lessons is the ability to teach your children how to be as comfortable as possible in the water prior to diving into the learning process. This is perhaps the most important part of the entire learning experience because fear is typically the number one roadblock to learning how to swim successfully. Before someone is able to learn how to swim, they must be comfortable with being in and submerged in water. A professional teacher will be able to do just that when it is a private lesson because they will have the time and the one on one ability to properly introduce them to water without having to rush the process. This will allow them to learn how to feel confident while they are in water and how to float without assistance.
2. Center Of Attention
When you invest in group classes, the biggest problem is not getting enough attention to your own children. While your children might be fast learners, they might not be as advanced as others in the class. Therefore, if your children are some of the few that might require more instruction, you will want to be sure that they get the attention they need to succeed. The only way that you will be able to ensure that your children are able to get this kind of required attention is by investing in private lessons. That way, you know that they will be able to get one on one instruction and training. Thus, all of the focus will be on your children which is going to position them in the best possible way to succeed.
3. More Affordable
While you might assume that group classes are more affordable because the cost per lesson can be split up, this is not true. In fact, it is actually more likely to be cheaper in the long run to invest in private lessons because your children are going to be able to learn much faster. When you are in group classes, you are going to be hindered or slowed down by the slowest learner. Therefore, you will be paying for classes and instructions that your children may have already mastered. When you invest in private lessons, you are only going to pay for what your children are learning and what they need to learn. Therefore, they may be able to get through the entire course and instruction much quicker than with group classes. Thus, saving you a good amount of money in the process.
4. Flexibility
Another reason you are going to want to invest in private lessons rather than put your money into group lessons for your children will be due to flexibility. The fact is, when you invest in private lessons, you are going to not only be able to schedule the right time to host the lessons, but you will even be able to pick the ideal locations to hold it as well. This is going to provide you with the kind of flexibility that you might need to better accommodate your busy schedule. This is likely going to be a very big benefit for the parents of the students in question. Having to deal with the logistics of getting to and from and working around group classes can be daunting. Therefore, it is likely going to be a much better idea to simply go for this kind of private lesson in order to get the flexibility you might need.
Overall, there are a lot of different advantages that you are going to be able to enjoy when you invest in private lessons over having your children take group lessons. Not only will they get better and more focused instruction, but it might even save you money in the process. Also, it is bound to save you time and energy with the increased flexibility you will have scheduling everything.
Sofia Coraines is a contributing writer for Northstar Montessori Private School. For more info about Private Swimming Lessons, Swimming Camps, Competitive Swimming, Swimming Programs, etc... please visit https://www.northstarmontessori.com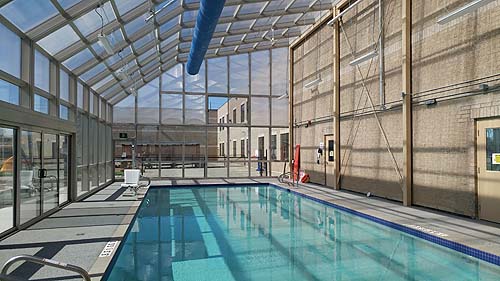 School Info:
Northstar Montessori's all season swimming pool is beautifully surrounded in a solarium-type enclosure and a rubber surface decking all around the 18 x 50ft pool. They also feature the the Northstar Aquatics Program and the Aquatic Summer Camp. They offer competitive swim packages. Check them out now!
Related Articles:
How To Find The Best Swimming Camps For Your Child
Tips For Excelling At Competitive Swimming