New Northstar Aquatics Program Launched at Northstar Montessori Private School
PRESS RELEASE
For Immediate Release
_________________

New Northstar Aquatics Program Launched at Northstar Montessori Private School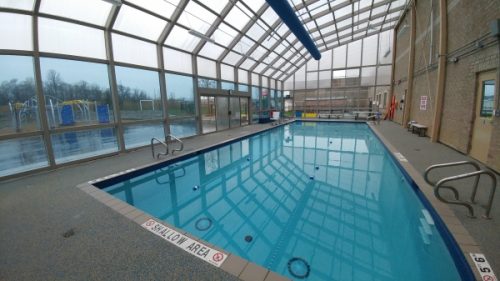 Mississauga, ON - July 4, 2017: Northstar Montessori Private School recently opened their brand new indoor swimming pool in April; launched their new and unique Northstar Aquatics Program; and then announced their new Aquatics Summer Camp programs.
Northstar Montessori's new all season indoor swimming pool is an 18ft x 50ft pool. It is in a beautiful solarium-type enclosure with rubber surface decking all around. The pool's construction was a long drawn out process and it's finally completed.
The Northstar Aquatics Program is a new and unique swimming program that emphasizes mastering each stroke before learning new ones. They are firm believers of 'Repetition is key' and would like to help not only achieve goals but also be good at it while having fun. Their programs focus heavily on stroke development and really build the fundamentals of each stroke. Since they have more levels than what others are used to, they definitely encourage all of their candidates and instructors to work together and progress to get through multiple levels during the same session.
The other special program that is offered is the 'Family Plan'. Parents are able to have swimming lessons in the same pool as their child, regardless of their levels. This way, they are able to swim and leave together instead of just watching them. All instructors have experience in teaching both children and adult swimming lessons while some of them, also have a background in competitive swimming that will further refine the proper stroke mechanics (ideal for advanced competitive swimming). All swimming programs are also very versatile in terms of accommodating their customers' needs and are able to offer private swimming lessons and lower ratio classes as per request.
And the last but not the least, Northstar Montessori also announced their new Aquatics Summer Camp programs. This will be their first year offering an Aquatic Summer Camp at their school. Starting this Summer, Northstar will be offering two types of Summer Camp Programs. There will be the usual Summer Camp for all ages, and also, an Aquatic Summer Camp for ages 5 and up. There will be counselors in the water and lifeguards on deck to reinforce rules and maintain safety while fun swim is in progress.
Mr. Rick Ramirez, President and Business Manager, proudly announces these new swimming programs and swimming summer camps. He also thanks all their long time Northstar families for their patience and support in this project since 2015.
For more information about Northstar's new and exciting Northstar Aquatics Program and Aquatic Summer Camp, individuals are encouraged to visit the school's website at www.northstarmontessori.com or contact Mr. Rick Ramirez at 905-890-7827 directly.